Photos-Why man killed his fiancée and deposited her body in a bin in Lagos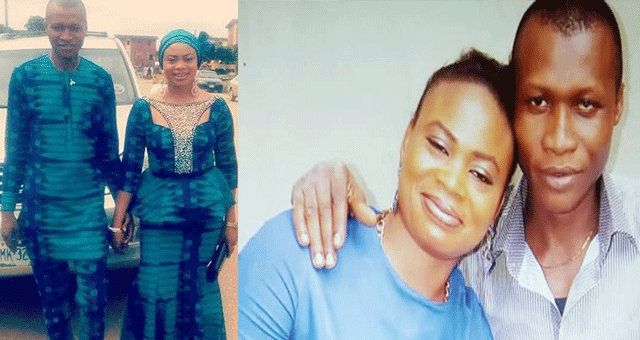 The man who murdered his fiancee and deposited her corpse in a bin in Oshodi, Lagos, is believed to have killed her because another man picked her call while he was away on a journey.
Isaiah Chukwu, 35, a spare parts dealer in Ladipo, Oshodi, lived with his 26-year-old lover, identified only as Joy, in a house on Balogun Street, Oshodi. Though not married, Chukwu and Joy, both indigenes of Ebonyi State, had been living together for the past two years.
All seemed smooth in their relationship until Chukwu traveled, then called Joy on the phone, only to hear another man's voice. He concluded Joy was cheating on him and when he returned to Lagos, he stabbed her in the back. He then declared her missing.
However, he ran out of luck when he tried disposing of the body and was caught by youths in the neighborhood.
To dispose of the body, Chukwu stuffed his victim into a bin with her legs tied, then he put the bin in a sack and knotted the top.
At about 4am on Monday, he dragged the sack containing the body to go dump it but as he got to the ground floor of the house he was accosted by some youths. The suspicious youths asked what the content of the sack was but the suspect ignored them.  An Islamic cleric passing by then opened the sack and found the corpse. At this, the mob pounced on the suspect and beat him to a pulp.
Residents who spoke to Punch Metro on Tuesday said they were shocked because the couple lived together peacefully. Friends of the deceased said Joy adored Chukwu and spoke fondly of him.
A friend of the deceased said:
They don't fight. In fact, people always envied their relationship. The woman could be doing something and immediately she heard that he was around, she would leave it and say, 'My oga don come. My darling don come.' I never believed this could happen.
A police source told Punch that Joy was stabbed in the back.
We recovered a knife which he used for the crime and four mobile phones from the house. Although investigations are ongoing, we suspect it had to do with suspicion of infidelity.
The man said he had called her when he travelled and a man picked the call. He said the man queried him (Chukwu) for disturbing his wife.
Narrating what happened, the suspect said:
I travelled on Thursday to attend a burial in Abraka, Delta State. I left Abraka the following day for my hometown in Ebonyi State. I called my wife around 11pm to know how she was faring. We exchanged pleasantries.
Around 11.45pm, I called again, but she did not pick her calls. I called about 10 times, but she did not pick. Then I heard a man's voice.
On Monday (after he returned), as I was going to take my bath, I saw the corpse.
A sibling of the victim broke down in tears at the Akinpelu Police Station upon hearing the news of Joy's death. As a result, the sibling couldn't speak to the police but her husband spoke on her behalf.
He said:
They were not married, although he has visited her family members in the village. They have been living together for the past two years without formalising their marriage. He rented that apartment for her, while he stayed with his brothers in another house. He used to go to meet her at her apartment.
She (Joy) had come to see my wife about a week ago to say that she was no longer interested in the relationship. But the man said he could not let go because of the money he had spent on her. My wife counselled her to consider him and she said she would think about it before this incident happened.