Pop star, Rihanna says motherhood is 'everything' as she shares cover of Vogue with A$AP Rocky and their son after revealing her second pregnancy (photos)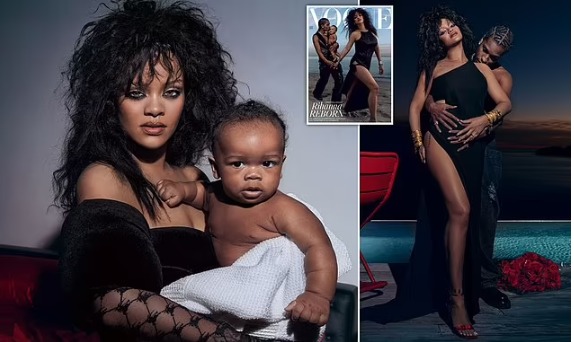 Rihanna has opened up on motherhood and her relationship with A$AP Rocky as she posed up a storm with her family for a magazine cover shoot.

Last Sunday, the singer, 34, shocked fans as she revealed her second pregnancy by debuting her baby bump during her much-anticipated Super Bowl halftime show.

Days after revealing her surprise pregnancy, Rihanna posed up a storm with her rapper beau, 34, and their nine-month-old son they featured on the cover of Vogue's March issue.
Speaking to the magazine, Rihanna gushed that Rocky is her 'best friend' and described motherhood as 'everything' as she admitted she can't remember what her life was like before having her son in May 2022.
She said of becoming a mother: 'It's everything, you really don't remember life before, that's the craziest thing ever.'
Rihanna said her first few months as a mother were a rollercoaster and described giving birth as a 'head-f**k', saying she couldn't believe she entered the hospital pregnant and left with a baby.
For the stunning photoshoot, the pop star rocked a one-shouldered black gow as she cosied up to Rocky in one intimate shot.

Rihanna admitted that having a child has also made her reevaluate a lot as she described raising her son as one of the 'scariest' responsibilities ever in her life.
She said: 'Raising a young Black man is one of the scariest responsibilities in life […] 'You're like, 'What am I leaving my kids to? This is the planet they're gonna be living on?'
Despite the challenges of motherhood, Rihanna insisted it has only brought her and her partner Rocky closer as she said they are 'best friends with a baby'.
'Everything changes when you have a baby but I wouldn't say it's done anything but made us closer,' she added.
She also gushed over Rocky's relationship with their son, saying their baby boy needed validation from his father as she described their close bond.
While she is currently pregnant with her second child, Rihanna revealed that she wants to have more children but will have to see what happens in the future.
Rihanna, who gave birth to her first child just nine months ago, revealed her surprise second pregnancy by debuting her blossoming baby bump during her much-anticipated halftime Super Bowl show on Sunday.