President Buhari speaks at UN General Assembly, lauds Nelson Mandela's virtues and condemns xenophobia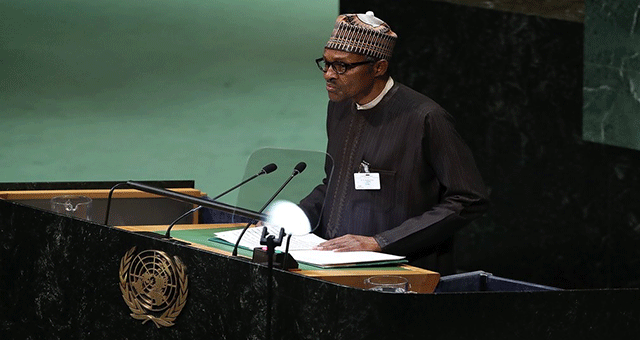 President Buhari last night delivered an address at the High-Level Meeting on Global Peace in honour of the Centenary of the birth of Nelson Mandela on the sidelines of United Nations General Assembly in New York.
In his address, President Buhari commended the former South African President Nelson Mandela for his rare virtues, especially in the promotion of peace, unity and reconciliation.
According to him, Nigeria is committed to the promotion and protection of the rights of all women as well as providing an enabling environment for them to realise their full potential.
"We also recognise that inherent dignity and the equal and inalienable rights of all peoples in the world is the foundation of freedom, justice and peace in the world. "We declare that racism, racial discrimination, xenophobia and related intolerance present the very opposite of the noble purposes of the United Nations. "We recognise that tolerance of cultural, ethnic, racial, and religious diversities are essential for lasting peace, understanding and friendship among peoples, nations, cultures and individuals.
As Mandela passes to history, we stand with him in his aspirations for a better world," the Nigerian leader said
He said the world was facing diverse challenges such as conflict, climate change, terrorism, desertification, poverty, armed trafficking and violent extremism.  President Buhari stressed the need for the global community to live up to Mandela's indelible legacies by being accountable to the values and principles and hope for the declaration through striving for a just, peaceful, prosperous, democratic, fair and inclusive world.
"This centenary celebration provides an avenue to reflect on the legacies of Nelson Mandela and his unwavering advocacy for human rights, social justice and peace. "It also affords us the rare privilege to rededicate ourselves to the service of humanity by championing democracy, conflict resolution, disarmament, mutual respect, reconciliation, gender equality and the fight against poverty. There is no doubt that in the quest to attain peace and development, the world will draw inspiration from the life of Nelson Mandela. As we herald the Nelson Mandela Decade of Peace, Nigeria calls on all states to recognise that the United Nations is built on pillars of peace and security, development and human rights. These are the foundations for our collective wellbeing and emphasise that there can be no peace without sustainable development and no sustainable development without peace and the full respect for human rights and fundamental freedoms for all.''
Buhari said by the declaration of the Mandela's Decade of Peace, Nigeria recognised the contributions of women to the advancement of societies and their contributions to the prevention and resolution of conflicts.
Continue to see more photos