Publicity stunt, racist or innocent mistake?-H&M UK kids hoodie campaign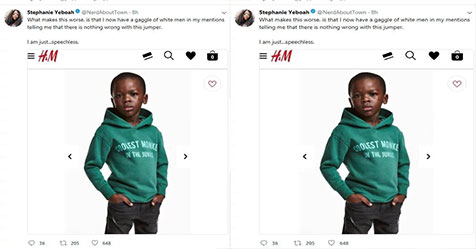 They launched the hoodie above on their website with the words 'COOLEST MONKEY IN THE JUNGLE' on it.
Plus size stylist, Stephanie Yeboah saw this and called them out on the racist intonation behind it.
Some people online said it wasn't racist, while others begged to differ. An online user said part of the issue was that 'a little white boy in the same campaign has a hoodie that said 'survival expert'' on it.
Some people think the racial sensitivity involved with the word 'monkey' shouldn't have been used, especially with how sensitive some people are these days about race.
See some reactions from some social media users below: