Rivers Police arrest couple who tortured their 10-year-old son, chained him overnight over food theft and witchcraft allegations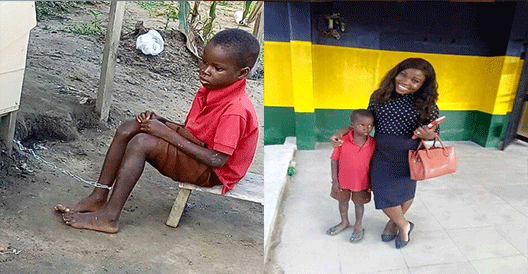 Police in Rivers State has arrested a couple for torturing their 10-year-old son, Goodluck over food theft and witchcraft allegations.
The arrest was facilitated by the International Federation of Women Lawyers (FIDA) Rivers State chapter alongside Rivers State Welfare Department.
"Right from the very first day I set my eyes on them, my heart clearly told me that I owe these lads but I never knew what in particular it is or could be….. I mean what can i owe lads that i never knew from Adam and are living with their parents even though they live in shanty and things are not that too okay with them," he wrote.
"I mean in a country like Nigeria, people live in shanties and things are not also working too fine for them. Ever since then, my heart was knitted with theirs and I was doing the little I could thinking perhaps, that's it. I never knew it was bigger than that. I never knew it was to liberate their souls,"
"Never knew that their Creator has heard their heart groaning as children. Today, as they have been taken by the River State ministry of social welfare and FIDA for a better living and all bills footed by the Rivers State government, seeing their futures is now brighter.
"I AM NOW FREE!
Not looking out for a pay back either from them in the future or from anyone, I AM NOW FREE! I can only but thank God for finding me worthy for such a great and daring assignment. Gratitude to Rivers State ministry of social welfare and FIDA
THANK YOU LORD!!!"
by Linda Ikeji at 17/10/2020 10:28 PM|6 Comments
Share this Story
Share
Tweet
Share
Share
---
Most Read Stories
---
Comments (6)
Disclaimer
Comments expressed here do not reflect the opinions of lindaikejisblog.com or any employee thereof.Anonymous about 8 hours ago
Ooooooo Africa the worse place to grow as a childLike this! 0Dislike this! 0Reply
Omalicha about 8 hours ago
Instead of them to pray themselves out of their predicament, they allow a fake pastor label their kids witches and wizards.Like this! 5Dislike this! 0Reply
Anonymous about 8 hours ago
God have mercy on usLike this! 0Dislike this! 0Reply
Chichi about 7 hours ago
Beautiful. It's only the poor that pastors convince. God will make things better for all of us in nigeria. AmenLike this! 0Dislike this! 0Reply

UMEH JARLAT about 7 hours ago
The heart of men is desperately wicked.Like this! 0Dislike this! 0Reply
Ikechukwu emefoh about 7 hours ago
They should comdem to death simpleLike this! 0Dislike this! 0Reply
Sign in
Add your comment
Anonymous
Submit Comment
---
Older Posts…
38-year-old Catholic priest drowns in Bayelsa flood
A 38-year-old Catholic priest, Fr. Francis Ighorurhie drowned at the flooded …by Linda Ikeji at 16/10/2020|13 comments
---
181 students and staff of a private school in Lekki test positive for Coronavirus
The Commissioner for Health in Lagos State, Prof. Akin Abayomi, says 181 stu …by Linda Ikeji at 16/10/2020|39 comments
---
Actress Lilian Afegbai blasts "shallow-minded Nigerians' attacking #EndSARS protesters for what they wear to protest (video)
Actress Lilian Afegbai has blasted Nigerians who stay online attacking other …by Linda Ikeji at 16/10/2020|32 comments
---
#EndSARS protesters hold candlelight session in honor of victims of police brutality (photos/videos)
#EndSARS protesters are currently holding a candlelight session in remembran …by Linda Ikeji at 16/10/2020|37 comments
---
#EndSARS: Kaduna State Govt constitutes judicial panel of inquiry into police brutality
The Kaduna State Government has constituted a judicial panel of inquiry into …by Linda Ikeji at 16/10/2020|30 comments
---
South Africa's agency IPID launches investigation into death of Nigerian man after he was allegedly assaulted by police officers
South African Independent Police Investigative Directorate (IPID) has launch …by Linda Ikeji at 16/10/2020|11 comments
---
17 KASU medical students test positive for COVID-19
17 medical students of Kaduna State University (KASU) have tested posit …by Linda Ikeji at 16/10/2020|4 comments
---
#EndSARS: Flavour, Phyno, Zoro, Kcee and Yul Edochie lead protest to SARS head office in Awkuzu, Anambra state (Videos)
Singer, Flavour together with Phyno, Zoro, Kcee, and Yul Edochie …by Linda Ikeji at 16/10/2020|30 comments
---
#EndSARS protester accuses police of brutalizing her during the peaceful protest in Abuja (photos)
A Twitter user has accused men of the Nigerian police force of brutalizing h …by Linda Ikeji at 16/10/2020|12 comments
---
#EndSARS: Obaseki condemns attack in Benin, calls for security for protesters
Governor Godwin Obaseki of Edo state has condemned the attack on the #ENDSAR …by Linda Ikeji at 16/10/2020|12 comments
---
#EndSARS protests: We need the music breaks to lift our morale as the protests can be draining- Actress Inidima-Okojie
Actress Inidima Okojie says contrary to the opinion held by Falz and others, …by Linda Ikeji at 16/10/2020|12 comments
---
Awolowo's eldest child, Tola Oyediran, dies at 79
Rev Tola Oyediran, the eldest child of late Western Region Premier, Chief Ob …by Linda Ikeji at 16/10/2020|9 comments
---
FFK counts his blessings as he turns 60 years old
Former Minister of Aviation, Femi Fani-Kayode, is in a celebratory mood as h …by Linda Ikeji at 16/10/2020|46 comments
---
#EndSARS: Photos from the scene where armed hoodlums attacked protesters in Benin
At least one person has reportedly died while others sustained inj …by Linda Ikeji at 16/10/2020|33 comments
---
Ex-Manchester City and Argentina defender, Pablo Zabaleta confirms retirement from football at 35
Former Manchester City and West Ham defender, Pablo Zabaleta has announced h …by Linda Ikeji at 16/10/2020|1 comments
---
Nigerians express concern about the embarrassing state of Kukiya primary school in Katsina (photos)
Attention has been drawn to the state of Kukiya primary school in Katsina st …by Linda Ikeji at 16/10/2020|34 comments
---
© Copyright LindaIkeji 2020https://s7.addthis.com/static/sh.f48a1a04fe8dbf021b4cda1d.html#rand=0.5534194765478686&iit=1603002353943&tmr=load%3D1603002352262%26core%3D1603002353247%26main%3D1603002353758%26ifr%3D1603002353982&cb=0&cdn=0&md=0&kw=UPDATE%3A%2CRivers%2CPolice%2Carrest%2Ccouple%2Cwho%2Ctortured%2Ctheir%2C10-year-old%2Cson%2C%2Cchained%2Chim%2Covernight%2Cover%2Cfood%2Ctheft%2Cand%2Cwitchcraft%2Callegations%2Cnews%2Cblog%2Cpolitics%2Cgossip%2CEvents%2CEntertainment%2CLifestyle&ab=-&dh=www.lindaikejisblog.com&dr=https%3A%2F%2Fwww.lindaikejisblog.com%2F&du=https%3A%2F%2Fwww.lindaikejisblog.com%2F2020%2F10%2Fupdate-rivers-police-arrest-couple-who-tortured-their-10-year-old-son-chained-him-overnight-over-food-theft-and-witchcraft-allegations.html&href=https%3A%2F%2Fwww.lindaikejisblog.com%2F2020%2F10%2Fupdate-rivers-police-arrest-couple-who-tortured-their-10-year-old-son-chained-him-overnight-over-food-theft-and-witchcraft-allegations.html&dt=UPDATE%3A%20Rivers%20Police%20arrest%20couple%20who%20tortured%20their%2010-year-old%20son%2C%20chained%20him%20overnight%20over%20food%20theft%20and%20witchcraft%20allegations&dbg=0&cap=tc%3D0%26ab%3D0&inst=1&jsl=1&prod=undefined&lng=en&ogt=site_name%2Cimage%2Clocale%2Ctype%3Dwebsite%2Curl%2Ctitle%2Cdescription&pc=men&pub=ra-55d70e0741850788&ssl=1&sid=5f8bdff038383ece&srf=0.01&ver=300&xck=0&xtr=0&og=description%3DPolice%2520in%2520Rivers%2520State%2520has%2520arrested%2520a%2520couple%2520for%25C2%25A0torturing%2520their%252010-year-old%2520son%252C%2520Goodluck%2520over%2520food%2520theft%2520and%2520witchcraft%2520allegations.%250A%250A%25C2%25A0%250A%250AThe%2520arrest%2520was%2520facilitated%2520by%2520the%2520Internati%26title%3DUPDATE%253A%2520Rivers%2520Police%2520arrest%2520couple%2520who%2520tortured%2520their%252010-year-old%2520son%252C%2520chained%2520him%2520overnight%2520over%2520food%2520theft%2520and%2520witchcraft%2520allegations%26url%3Dhttps%253A%252F%252Fwww.lindaikejisblog.com%252F2020%252F10%252Fupdate-rivers-police-arrest-couple-who-tortured-their-10-year-old-son-chained-him-overnight-over-food-theft-and-witchcraft-allegations.html%26type%3Dwebsite%26locale%3Den_GB%26image%3Dhttps%253A%252F%252Falexis.lindaikejisblog.com%252Fphotos%252Fshares%252F5f8b5ab39c68a.jpg%26site_name%3DLinda%2520Ikeji's%2520Blog&csi=undefined&rev=v8.28.7-wp&ct=1&xld=1&xd=1https://c.sharethis.mgr.consensu.org/portal-v2.htmlShare to Facebook, Number of sharesShare to TwitterShare to EmailShare to WhatsApp