Sam Smith comes out as gender non-binary "I feel just as much woman as man"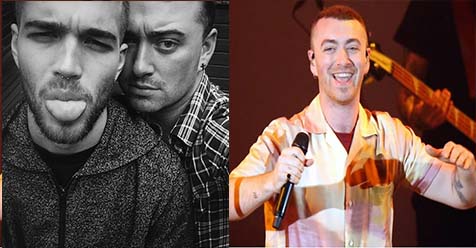 Singer Sam Smith, who has never hidden the fact that he's gay, recently opened up to the London Times about gender identity and his love for dressing in women's clothing.
Sam said during the interview: "I love a heel. I've got loads of heels at home. People don't know this, but when I was 17, I remember becoming obsessed with Boy George and Marilyn. There was one moment in my life when I didn't own a piece of male clothing, really. I would wear full make up every day at school – eyelashes, leggings with Dr Martens and huge fur coats, for two and a half years."
Further into his interview, Sam was asked whether he identified as a cisgender male, meaning that his personal identity and gender match his birth sex, and he responded with, "No."
He added: "I don't know what the title would be, but I feel just as much woman as I am man."
Smith also spoke about his struggle with not wanting his sexuality and gender identity to overshadow his career.
He explained: "I remember, at the beginning of my career, being called a 'gay singer', and I didn't want that."
"I wanted to be seen as a singer first, before people spoke about my private life. And now it's changed – I've changed. I think that maybe I don't mind that title."
Smith, who 'came out' publicly in May 2014 in the lead-up to the release of his debut album, In the Lonely Hour, spoke of why he decided to wait before coming out to fans.
"Looking back on it, it was the fear of saying the wrong thing and offending. And I was 19 when I started writing the first album. I'd just moved to London from a village – I was literally the only gay in the village. I didn't know what I wanted to say," he explained.
Smith added that his new songs mark a departure from his former, more reticent self, now that he is able to be more open about who he is.
He said of the tracks off his upcoming album: "I think they show my growth, my confidence. I feel like they show me. They show the gay guy I've become."
Weeks back, The 25-year-old songwriter was photographed out and about with his boyfriend, 23-year-old actor Brandon Flynn