See Woman's leg severed in horror lift accident as she steps into faulty elevator which suddenly shoots up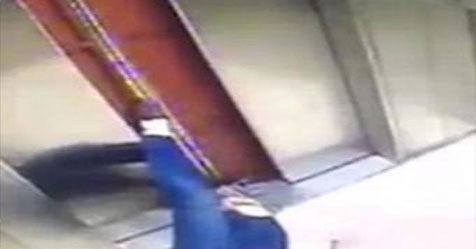 A woman's leg was severed after it got stuck in the door of a faulty lift which suddenly shot up into the air.
The woman was looking at her phone as she and another woman walked towards the open lift doors. Immediately she stepped one foot in, the floor of the lift started to rise, causing her to fall to the floor. The other woman, spots the danger and stays back. Almost immediately, the lift doors start to close, as the elevator suddenly shoots upwards with the woman's leg got trapped in the doors. The lift shot up three floors, with the injured woman still inside.
The disturbing incient took place in the Conch Building in Zhongshan West Road of Shanghai. CCTV inside the lift recorded the horrific accident, which is believed to have occurred in June last year. There are no details of whether the woman was rescued or details of her condition.
Watch the disturbing video below.