Segun Ogungbe yoruba actor , celebrates birthday with his two wives who used to be close friends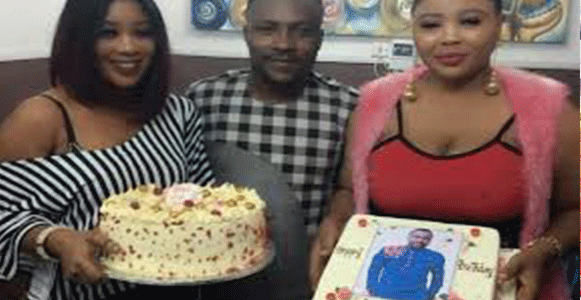 Popular yoruba actor and film director, Segun Ogungbe celebrated his birthday at the weekend with his two wives, Omowunmi and Atinuke, children and friends.
The second wife, Omomwunmi Ajiboye  a surprise birthday for him which had in attendance several nollywood stars.
Segun who is the son of late actor and filmmaker Akin Ogungbe, who had '20 wives and 50 children', decided to follow in his father's footsteps after he reportedly impregnated his wive's 'best friend', Omowunmi who in 2015 was an upcoming actress, training at Segun's film school.
Omowunmi later delivered a baby boy and the pair had some sort of ceremony to seal their union and this in turn caused a huge problem in his marriage.  2 years down the lane and  it seems the rivalry is over and the wives are back to being 'friends' again.