Shatta Wale Spits Fire As Soundcity Blocks Him On Twitter- "I Will Also Block Nigerian Artistes In Ghana"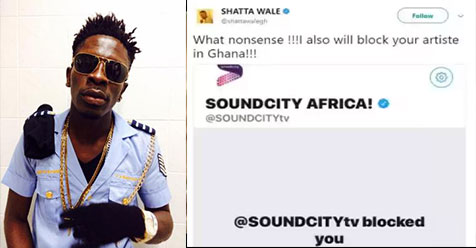 Soundcity has touched Shatta Wale where it hurts most. The Ghanaian singer has been on the news for tagging Wizkid as "no superstar", and sternly getting ignored multiple times by the Starboy. He had also tried to start a media fight with Patoranking and Timaya, but nobody is paying him any attention.
Shatta Wale has been nicked with so many names, ranging from "Shattap Wale", "Shattered Wale", "Scatter Wale", and other names we might not have come across yet. There is even a prayer point currently ongoing, which reads: "May God not ignore you the way Wizkid has ignored Shatta wale…" The Ghanaian dancehall singer has really gone through alot in the hands of bad mouthed Nigerians. The one that hurts him most now is that Soundcity blocked him on Twitter.
According to details on Twitter, the controversial act was recently blocked for all his negative comments on Nigerian artistes and Nigerians in general. In retaliation, he promised to block all Nigerian artistes in Ghana.