Sickening moment man pours acid on boy, 3, following orders from the boy's father to prove his wife was an unfit mother (video)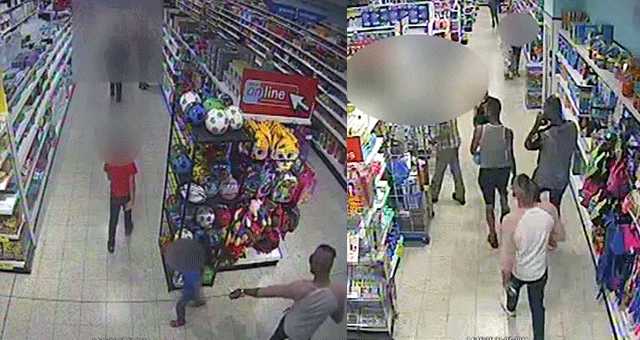 Video showing the moment a three-year-old boy had sulphuric acid poured on his face has been released.
The man who poured acid on the boy was following orders from the boy's father
The child's father, who will not be named to protect the identity of his children, was angry that his wife had walked out on him in April 2016 with their kids. The 40-year-old father planned the attack on his own child so the court can rule in his favour and he will get custody of the kids.
The father enlisted the help of six men to carry out his evil plot.
CCTV cameras captured a man, alleged to be Adam Cech, holding out his arm to spray the corrosive substance at the youngster inside Home Bargains in Worcester. The court heard Cech was accompanied by co-defendants Jan Dudi and Norbert Pulko in the store before the 'cowardly attack' took place.
Security footage shows the mum walking around the shop browsing for a birthday present with her children at around 2.13pm. Jurors were told Cech, Dudi and Pulko entered the store at the same time and can also be seen walking along the aisles. The boy can be seen standing next to a display containing footballs before he is covered in sulphuric acid.
As the offenders leave the store the boy is comforted by his mother before staff members come to his aid.
The boy, who cannot be identified for legal reasons, suffered serious burns to his face and arm following the attack which was carried out during a parental custody dispute.
Watch the video below.