Soldier's wife arrested after allegedly breaking her maid's teeth and inflicting injuries on her with a knife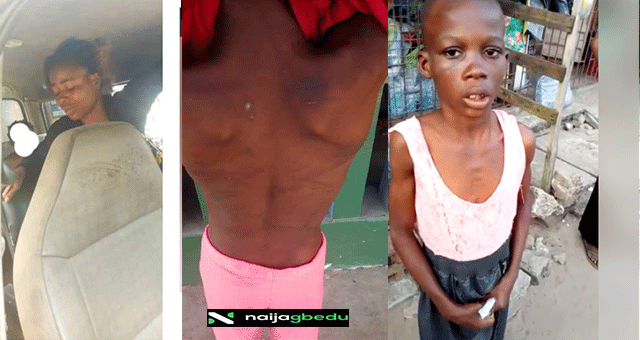 A soldiers wife has been arrested after a video of her maid's battered body went viral online (read here).
Little Olunma's plight was brought to light after some concerned citizens saw her with scars all over her body and questioned her. The young girl then revealed she had been assaulted by her boss who she began living with in December.
She added that the woman, a mother-of-three, tortured her with a knife and even broke her teeth.
The woman, Mrs. Ebere was arrested for child abuse and detained by the Nigeria Police Force Divisional Police Station Isasi Town, Lagos State, after the girl's story went viral.
Human rights activist, Gwamishu Harrison revealed that he and his BBI team are in Lagos State to follow up on the case and they have reached out to Olunma's parents and are ready to provide support.
He also thanked the "Lagos State Ministry of Youth and Social Development Centre for their quick response."