South African woman who was raped from age 10 by her uncle's son shares her struggle with Depression and surviving suicide attempts(Photos)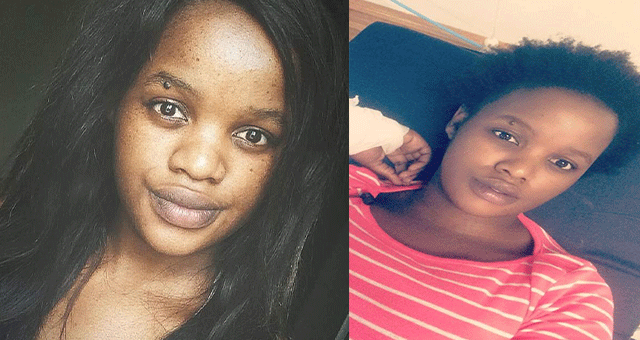 A 24-year-old South African woman, Busisiwe Mhlongo has been battling depression and PSTD  as a result of repeated sexual abuse by her uncle's son.
Taking to Facebook on November 22, Busisiwe, opened up for the first time and narrated how her uncle's son had raped her vaginally and anally from age 10, when she was in grade 4 to grade 6. She didn't tell anyone because the young man threatened to kill her with Ratex (rat poison)
Ever since the incident, Busisiwe had been struggling mentally and emotionally and tried to take her own life several times. Read her story as she shared on Facebook below.
Some of my family members will be shocked but hey I am tired of keeping this secret because it is making me to be sick but here it goes My Name is Busisiwe Mhlongo and I am 24 years old… born in 1994/09/18 ♥?… in 2004 I was staying at my Uncles house in Harding,KZN..his First born son (we call him Sphamo) who was 17/18 years at that time would call me to his room and rape me (I was 10 years old).. this started when I doing grade 4 until I was doing grade 6, around June because that's when I had my periods for the first time but he did Rape me Vaginally and anally. he did a lot of things that I wouldn't like to re-iterate here.. I stayed with someone who sexually abused me and I didn't tell anyone because he said he was going to kill me with Ratex. I kept that secret until this year cause I was struggling mentally and emotionally, Back in February I attempted to commit suicide, overdosed pills-in April I overdosed pills again- In June I starved myself hoping to die- in August I overdosed pills again- in September I attempted to jump out my Res but the security saw me and I couldn't cause he said Jump I will catch you- in October I started cutting myself from my hand to my elbow and if I feel like the razor isn't sharp enough I would get another one- I did it until it was beyond my control and I was admitted and of course Psychiatry Ward was my ward,stayed there for weeks and was diagnosed with depression and PSTD….Generally if you know me- I am a Happy person and I love everything about everyone, to be diagnosed with depression was heavy for me and the medication is just too much. My mom and my other family members are aware of this now that have done drastic things. I have never got a call from my cousin say he is sorry. What he did to me was damaging physically, emotionally and sexually. He robbed me my childhood and virginity, I will never be able to know what it's like to be a child because of the things he did to me, he used a baby oil so that his penis would go in, he would put baby inside me so I can be "wet for him". He did it for 3 years and he was never satisfied. I have been struggling to even wake up in the morning and eat, let alone to trust a man, I am struggling to believe that I will be fine because depression is not a fly by night thing I am living with depression and PSTD…………. I have lost everything you can think of and if I win this battle – it's game over for my cousin! I am coming for everything and  I know this wil be a lot of drama but I am not going to protect a rapist…