Southerners have hijacked jobs meant for northerners – Coalition of Northern Groups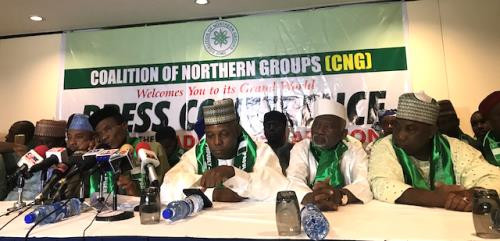 The Coalition of Northern Groups on Sunday September 1, lamented over jobs meant for indigenes of Northern states which have allegedly been hijacked by Southerners.
The spokesperson of the group, Abdul-Azeez Suleiman who alleged that northerners were being denied employment opportunities in the south, added that southerners have taken all the vacant positions meant for indigenes of the northern region as guaranteed by the local content clause of the Federal character provision in the Constitution. He blamed this on the negligence of the political leaders in the region.
"Whereas, the local content clause stipulates that all levels 01 to 06 positions in every government establishments must go to indigenes of the host communities in the North, the reverse is the case,'' Suleiman said.
The group also raised an alarm over the reoccurring violence and security challenge in the north which according to them has posed a threat to the region's population, political unity, economic and social activities.
"Recurring violence, involving cattle theft, abductions for ransom, attacks on civilian targets and other forms of banditry all over the North, poses a serious threat to peace and security, with the uncoordinated and inadequate responses by the Federal and state authorities, thereby deepening mistrust and perception of the authorities as biased,'' he added.
Punch reported that Abdul-Azeez Suleiman slammed Governor Nyesom and the Lagos State Government over the alleged demolition of a mosque and arrest of 123 Jigawa indigenes respectively.
Berating the humilation the now-released Jigawa indigenes were subjected to by the Lagos State Government, he also stated Governor Nyesom Wike's action breached the guaranteed freedom of every Nigerian to practise their faith unhindered.