"Stop Praising Only Musa Too Much So His Team Mates Dont Get Jealous And Choke Him Out Like Yekini In 1994"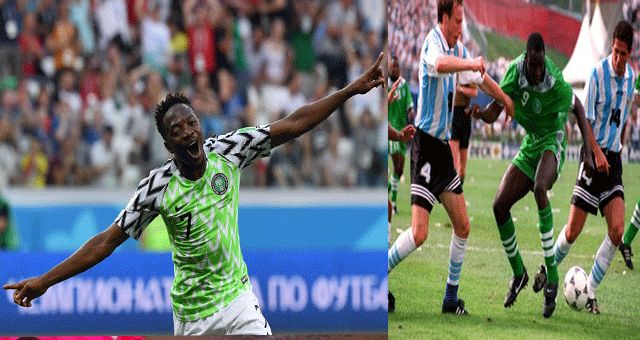 CAUTION! CAUTION!! Now we are going down that '94 road again. Yekini scored the first goal and all media outlet made a king out of him as an individual and not part of a chain called a TEAM. Team mates were not happy and decided to choke him out. He was not fed with balls to score goals anymore. The rest is history.
Yesterday. Super eagles played as a team and Musa scored two much needed goals for us. Today it's all about Musa alone and not the team. No one is mentioning Victor Moses who made that connection for that super first goal. Social media is awash with Musa for President, If Musa is not single I am willing to be hi second wife, Musa is bae, Musa is from my village, Musa is handsome (huh???) Musa this, Musa that! It Is called a TEAM folks so lets not reinvent that 94 misfortune. As we appreciate Musa, Let's also appreciate and support the team and everybody in the chain after all it's Nigeria playing. Let's not thwart efforts towards beating Argentina 2-1 pls. Do have a great weekend.
#ng_supereagles #supereagles #worldcup2018 #Russia2018 #2018WorldCup #Soccer #Sports #worldcup #soarsupereagles #soarsupereagles⚽⚽⚽⚽ #nigeria #shomoagemini #comeonline #jimasun #brazilvscostarica #costaricavsbrazil #nigeriavsiceland #icelandvsnigeria #serbiavsswitzerland #switzerlandvsserbia