Shocking:Terrifying moment woman picks pushchair with 8-month-old baby inside and throws it to the street during deadly knife fight that saw her and her husband killed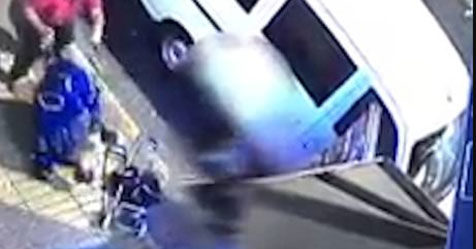 The shocking moment a woman picked up a pushchair with an eight-month-old baby inside and hurled it into the road during a deadly knife fight was captured on video.
Yohanna Pinones Iter, 38, and her husband Jorge Huerta, 40, had started a fight with a kiosk owner in Antofagasta, Chile, accusing him of puncturing their tyres. The fight soon became physical and involved a knife.
CCTV footage shows the kiosk owner's infant son sitting in a stroller next to the kiosk, and during the fight, Pinones Iter grabs the stroller with the baby in it and throws it into the road as the kiosk owner's wife rushes to save her baby.
Pinones Iter and Huerta is reported to have had a longstanding feud with the kiosk owner and his wife, and they had turned up at the little stall with their 18-year-old daughter to accuse him of sabotaging their work vehicle.
CCTV footage starts with the the 36-year-old kiosk owner's wife waiting patiently beside their baby son's pushchair while her husband served his last customer before shutting up shop for the night. Pinones Iter and Huerta and their daughter, as well as a fourth person suddenly appeared on the scene with sticks, approaching the owner. A woman thought to be the daughter can be seen pulling the baby's mum back by the hair as she tries to protect her husband who owns the kiosk.
The kiosk owner then comes out with a large knife in his hand, appearing to injure Pinones Iter in the chest, before fatally stabbing Huerta during an ensuing brief struggle. The footage shows Pinones Iter reacting to her husband's stabbing by picking up the stroller with the tot inside and hurling it with all her might onto the road as his horrified mum ran towards her in a failed attempt to stop her.
Pinones Iter was then stabbed again as the baby lay on the ground, then she collapses. Pinones Iter and Huerta both died at the scene before paramedics arrived. The couple's 18-year-old daughter was also hospitalised after the late-night street battle, just before 11 p.m. local time on Saturday. There was no immediate news about the baby's condition, although he is not thought to have been seriously hurt.
Last night friends and relatives of the dead couple took to Facebook to pay tribute to them. Yohanna's sister Aida demanded respect for her family and said people were "writing rubbish" after viewing the sickening