Thief Who Makes His Snake Swallow His Loots, Nabbed In Benin, Edo State(Photos)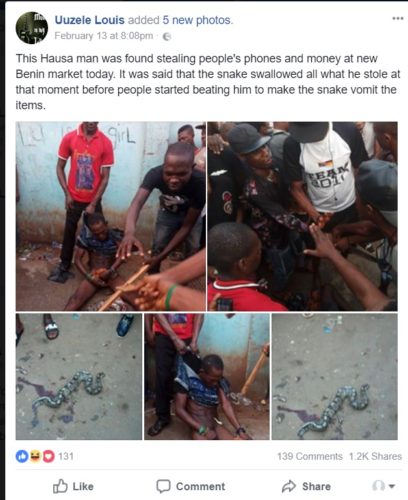 This Nigerian Thief Who Makes His Snake Swallow His Loots, Nabbed In Benin, Edo State
According to facebook user Uuzele Louis who added 5 new photos.with the below caption
This Hausa man was found stealing people's phones and money at new Benin market today. It was said that the snake swallowed all what he stole at that moment before people started beating him to make the snake vomit the items.
see some reactions below:
David C Carter I was there life and direct my brothers and sisters things are happening oooo it actually vomited 3 range rovers 2 mansions and 4 million dollars . It was even screaming fake news fake news ….
Eunice Okwari Which kind Country we dey? First it was RATS in the Presidents office. Then CATTLEs about to be granted a Colony. Now SNAKE has swallowed 36million in Jamb office and still swallowing things from aboki, Could this be the kind of Zoo Nnami K was talking about?
De Boss Awudu Hausa thieves both in our offices and market squares. This is the new trend: they caught one "iron condemn man" trying to steal someone's garri frying pots and some boys caught him in the process, immediately, he brought out his charm and started incarnation but he was held and was beaten mercilessly. God don punish dis one today. You can't steal a core Benin mans things and disappear freely. Never oooo dey must catch u
Oluwa Omalichanwa Pikin This is the snake era . I dey sell snake incase una need one …..please be friendly to every snake oooo. Don't kill them cuz they're very valuable now. I pray we hear say snake swallow buhari and Bob risky very soon . Snakes are chilling more than human nowadays. Can you imagine chief agwo spoiling his babe with money !!! Hmm odikwa risky ooo .