This White racist cop fired after stopping and detaining daughter and her black boyfriend for no reason(Video)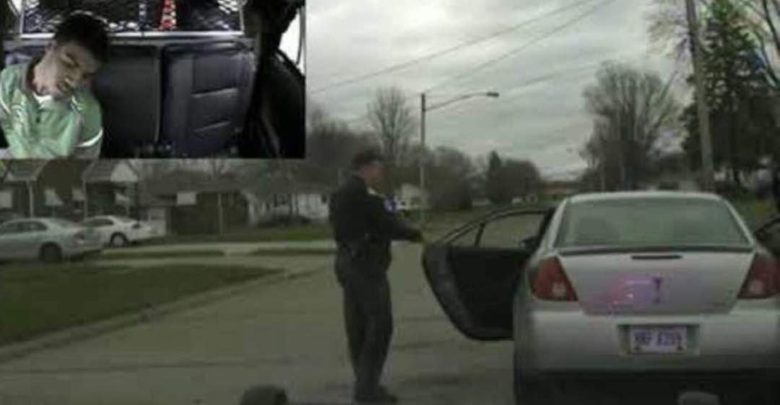 A lorain white police officer is out of job after an internal investigation in the US found thet he abused his authotity as a cop by conducting a traffic stop on his daughter and her boyfriend and temporarily detained them in the back of his police car.
Officer John Kovach Jr.,  pulled 18-year-old Makai Coleman with three other individuals including his daughter and told Coleman he was "going to jail".
When Makai asked why, the officer responded  "Have a seat in my car. We'll make sh*t up as we go."
Kovach then addresses a woman in the neighbourhood, Gloria Morales, who comes out of her home nearby because her children are two of the three people in the car with Coleman. He tells Morales his daughter's computer is inside her house and while she initially gives him permission to search the house, she later tells him to come back with a search warrant when he threatens to give her daughter a $300 ticket for not wearing her seatbelt.
When Morales says she is calling 911, he threatens to arrest her, telling her it is not an emergency. He then tells her two children to get out of the car and go with Morales. At that point, he notices his daughter, Katlyn Kovach, 18, in the backseat.
Kovach tells Coleman to get out of the cruiser and he pushes his daughter into the cruiser while she protests that she is 18 and can't be arrested for without cause. He eventually gets her into the cruiser and drives away,  as seen in the video below…
When asked by the investigation officer, Smith the reason for his actions, Kovach  said he was worried for his daughter because he didn't believe Coleman to be a good person, having been arrested for marijuana possession, and that his daughter was staying with Coleman against her parents' wishes, according to documents related to the firing.
He also told his fellow officers his ex-wife had called to alert him to a post that Coleman had made on Facebook, saying he was going to "put (Katlyn) out" as a prostitute to make money for the two of them, according to the paperwork.
Kovach said he was looking for his daughter because when he spoke with her the week before, he believed she was suicidal and wanted to take her to the hospital.
He said he had tracked his daughter's computer to the Morales' home so he waited down the street for Coleman's car and when he saw it, Coleman was driving at a high rate of speed and daughter and Coleman. He claimed to have received a phone call from his ex-wife the week before that she had come home to find Coleman and their daughter engaged in sexual conduct and when Coleman was asked to leave, he threatened her.
Kovach said when he spoke with his daughter on the phone she said "If I can't be with him, I don't want to be here anymore," which he took to be a suicidal threat, according to the firing paperwork.
At the end of his internal investigation, officers found that Kovach had violated the department's standards of conduct by initiating the traffic stop on Coleman without cause, by threatening to arrest Morales, for taking Coleman into custody and saying he would make up the charges against him and for failing to back up another officer at a traffic stop who called in while he was busy making unnecessary arrests.