Three friends accidentally film their own death as they drown in a deep pond in India (Video)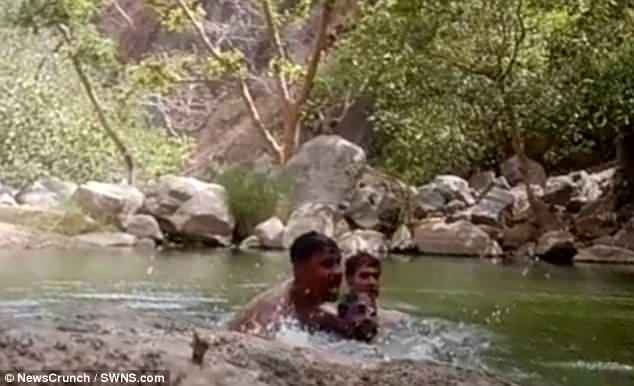 A footage showing the horrific moment three friends accidentally recorded themselves drowning in a deep pond in India, has been released online.
The men identified as Chetan Khatik, 28, Sudarshan Chandel, 22, and Radheyshyam Khatik, 27,  were said to have stopped for a swim in a local pond during a bike ride through Rajsamand city in Rajasthan,western India.
Sadly for three friends who were reportedly poor swimmers, they set one of their mobile phones up on the side of the pond and got into the deep pool at Gauri Dham Kund in the city.
At the beginning of the three-minute video, the men were seen splashing each other by the water's edge, before one of then jumps into the deep pond and started struggling.
In an attempt to save him from drowning, the other two jump into the deep end to help him but they all ended up drowning.
The men were discovered by Police who were contacted by their family members after they failed to return home.
According to a Gauri Dham Kund Police officer, Rajender Godara, he identified the men and said: 'The victims were relatives and knew each other well.'
Watch the video below.