Tolu Ogunlesi shares video of Obasanjo accusing Ghadaffi men of infiltrating different parts of Africa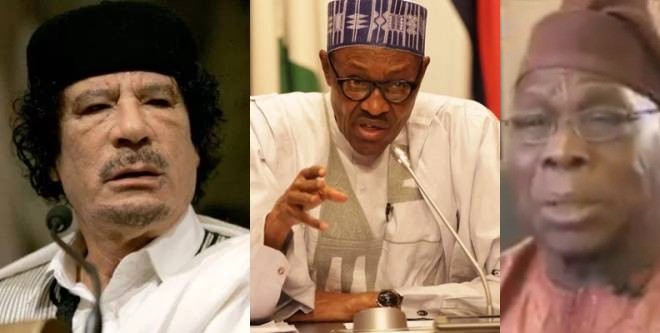 Following the criticism president Buhari received after alleging that the hitmen trained and armed by deceased Libyan leader, Muammar Ghadaffi were behind the various herdsmen attacks in the country, the head of Digital communication in the presidency, Tolu Ogunlesi, has now shared a throwback video of former President Olusegun Obasanjo also saying that the armed militia of the former dictator have infiltrated other countries since his death in 2011.
President Buhari at a meeting with the Archbishop of Canterbury, Justin Welby, said that the killer-herdsmen carrying out various attacks in some parts of the country are gunmen trained by the late Libyan President Muammar Gadaffi.
"The problem is even older than us. It has always been there, but now made worse by the influx of gunmen from the Sahel region into different parts of the West African sub-region. They were trained and armed by Muammar Gadaffi of Libya. When he was killed, the gunmen escaped with their arms. We encountered some of them fighting with Boko Haram. Herdsmen that we used to know carried only sticks and maybe a cutlass to clear the way, but these ones now carry sophisticated weapons. The problem is not religious, but sociological and economic. But we are working on solutions."
Many Nigerians found this allegation to be baseless and unfounded. Tolu shared a BBC interview of Obasanjo in 2012 were he spoke of Ghadaffi's men infiltarting other countries.