Tonto Dikeh Blasts Azuka Who Said She Lied Against Her Ex-Husban-"After 7 Domestic Violence Incidences & Miscarriages, I Curse You Today"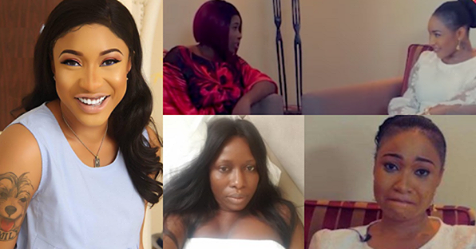 The drama has not ended! In the most recent episode of Hot Topics with Latasha on Linda Ikeji's Tv (Watch here), journalist, Azuka Ogujiuba revealed shocking details about Tonto Dikeh's crashed mariage. According to Azuka, Tonto Dikeh lied about being abused by her ex-husband, Olakunle Churchill saying that she was the who was abusive. She claimed to have video evidence to back up her claims and said she came to this conclusion after interviewing Tonto Dikeh and Churchill at different times.
Tonto Dikeh has taken to her Instagram page to blast Azuka and revealed more sordid details about her crashed marriage. She alleged that Churchill paid Azuka N3 million to interview him and lie against her. She cursed out Azuka saying she will never know peace until she forgives her.
Speaking about her ex-husband, Tonto Dikeh revealed that former president, Olusegun Obasanjo is not Churchill's father but that his father was Obasanjo's Gardner. Read all she wrote below. It's quite long but shocking!
Firstly Azuka You lured me into this interview. You used someone I respect a lot to convince me to talk about the marriage incidences. I finally succumbed to it because I felt that my story would help other women who faced the same issue of domestic violence. It was never orchestrated as u say. – Secondly, One of your staff suggested that I cover the scar on my leg. I told you that i was okay with the scar showing because it came as a result of domestic violence. – Furthermore, Azuka I told you several times about my faults in the whole incidence. I never hid any of it. I told you I broke things in his house as a response to the violence I faced. So why would you try and use that against me as if I did not openly admit and repent about it. As a matter of fact I have attached the text messages between us! Try and deny!
– Azuka you said yourself that Churchill offered you money to manipulate everything I said. Your assistant also admitted that Churchill offered her a large sum of money to manipulate the whole thing. You mentioned this in front of every body there! Your staff, your camera men, the make up staff, my team members and my brother. Don't dare deny this! I have several KEY people who where present there. – Azuka you said that Churchill showed you a video of me destroying things. Azuka please release that video! Release everything that was captured on that cctv camera from the beginning of the fight to the end of it without a second or minute missing! Please do this and vindicate your artist since we know now that you manage him.
– Azuka how dare you even say I lied! Where you there!? Where you present in any of the incidences that occurred!? Did you ever speak to any of my family that naturally would have taken sides with me just as his took sides with him. – When you called me for a second interview to counter his own interview what did I tell you? I said NO. That this is not a fight I want to entertain most especially because of my son. – Isn't it funny that your boyfriend you sent to pick me from the airport is now flying around the country with Churchill! Coincidence? – You said that you went to Ghana for an event and decided to do a bit of
You said that you went to Ghana for an event and decided to do a bit of investigative journalism? You lie. Azuka you where paid to go to Ghana!! Please don't lie! Now if u where paid to go to Ghana, would common sense not tell you that the sources where also manipulated for your pleasure. – You said that Churchill refused an interview with you because he didn't trust u then you later changed your story that Churchill and his people where the ones calling and begging you for an interview!! – You said I was out to destroy his image abi?!! Yet when you wanted me to say horrible things about him I told you that I wasn't here for that. You asked me to tell you about his father not being Obasanjo! If I was truely out to destroy him I would have mentioned long long ago that his father was once a Gardner for Obasanjo who later became a preacher. (There you go)
– Furthermore, I was never once arrested! The domestic violence led to the neighbours calling the police! We where both taken down and both wrote our statement and both reported to the station every single day for three days. I went to my hotel to sleep every night until Churchill convinced me to drop the case. So I was amazed when I saw the video of the police lying against me. – Azuka The same Ghana that you went to is the same Ghana that my team and I visited with a reputable lawyer and confirmed my story! – Azuka I truely hope that 3 million has set a good foundation for your children. It is women like you that make this world a terrible place. I once said that you where bribed a few months a go as a reply to a fan but my management went on my page to apologise in order to do damage control for you because of relationship one you obviously have no respect for. – Azuka I put it to you. You where successfully bribed! That is why you are going on TV talking all this. Azuka you told people I was on drugs! How dare you. Which reasonable man will suspect someone on drugs breastfeeding his child and would not take the child to the hospital for a check. – Azuka I offered to fly you to Abuja to take me to any hospital so we could do a test. You bluntly refused and told me to please ignore all of this! – Azuka I