Trial to begin after FBI discovered human organ shop with buckets of heads, cooler of penises and sewn corpses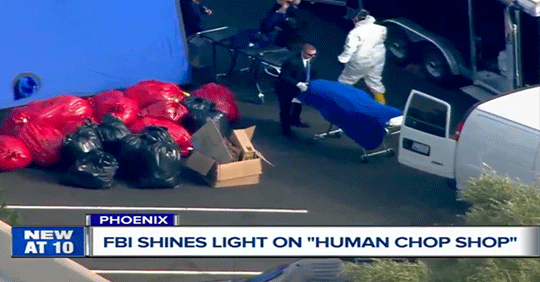 A trial is set to begin after the FBI discovered a human chop shop with buckets of heads, cooler of penises and corpses sewn like "Frankenstein".
The FBI made the gruesome discovery in 2014 when they raided a Phoenix body-donation business. A trial date has now been set for October 21, 2019, in Maricopa County, Arizona.
At the time of the raid, the now-defunct, for-profit Biological Resource Center held 1,755 parts. The center made its business centered around accepting corpses, where they removed and sold body parts, and cremated the remains for those they did not sell.
Eyewitness account of the raid is now being brought to light after three families filed a civil lawsuit against Biological Resource Center and its owner, Stephen Gore; where they claim body parts were obtained through "false statements" and being sold for profit to various middlemen.
In addition, the families say, the body parts belonging to their family members weren't stored, treated nor disposed of with dignity or respect.
Subsequent to the 2014 discovery, Arizona passed a law in 2017 stating that body donation companies must obtain a state license to operate; however, the law has yet to be implemented and enforced