Two LAPD officers sentenced to 25 years for sexually assaulting women while on duty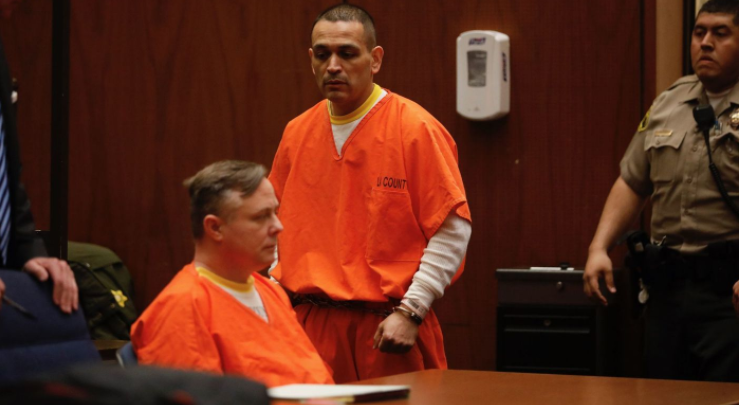 Two veteran Los Angeles police officers have each been sentenced to 25 years in prison for sexually assaulting women while on duty.
James Nichols, 46, and Luis Valenzuela, 45, pleaded no contest to charges of raping and sexually assaulting four women between 2008 and 2011.
On Monday, as they were set to stand trial on charges of rape and forced oral copulation, both men, who were partners on the force, accepted plea deals and a 25-year prison term to avoid trial and the possibility of life behind bars.
The Los Angeles County district attorney's office says the victims assaulted by the officers ranged from 19 to 34 years old and all were involved in drug-related investigations. At least one of the victims acted as an informant for the police. The women accused the officers of pressuring them to perform sex acts to avoid going to jail, saying they were attacked in alleys, apartments and the officers' patrol car.
One victim said that she was sexually assaulted on four separate twice by Nichols, once by Valenzuela and once by both of the officers, all taking place over a period of about 18 months. Another woman accused Valenzuela of assaulted her with a gun.
Since being arrested in February 2016, both Nichols and Valenzuela have remained in jail. The two were placed on unpaid leave from the LAPD in 2013 and had been relieved of duty. The plea deal they accepted reportedly paves the way for their formal termination.
Last year, the Los Angeles City Council agreed to pay nearly $2 million to settle lawsuits brought by the women.