UCLA players detained in China for shoplifting are finally returning to U.S. after Trump pleaded to the President of China on their behalf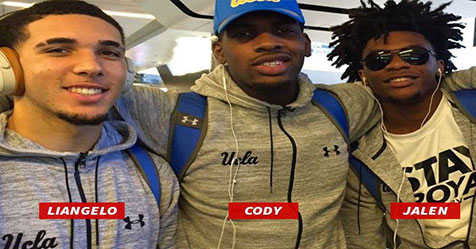 UCLA basketball players were in Shangai China for a game and afterward returned to Los Angeles but three players stayed back because they were caught shoplifting in China.
The players are LiAngelo Ball, Jalen Hill and Cody Riley. They were confined to their hotel for stealing sunglasses from a Louis Vuitton store next to the team's hotel in Hangzhou during the team's trip to China. Luckily, some of the most powerful people in the world, including Donald Trump and billionaire Alibaba founder Jack Ma, intervened and the players can now leave China to return home.
They were spotted at the Pudong International Airport in Shanghai early on Tuesday, getting ready to board a Delta plane bound for Los Angeles.
President Donald Trump confirmed that he did intervene with China President Xi Jinping in the case of three UCLA basketball players who were arrested after shoplifting in China. He was asked just before boarding Air Force One and he admitted he intervened, then praised Chinese President Xi for helping out.
Trump said: "President Xi has been terrific on that subject … But that was not a good subject. That was not something that should have happened."
When asked for his thoughts on the shoplifting allegations, Trump said: "What they did was unfortunate. You know, you're talking about very long prison sentences. They (Chinese officials) do not play games."