Video-Black college student tells a sad story of how her white roommate repeatedly poisoned her until she packed out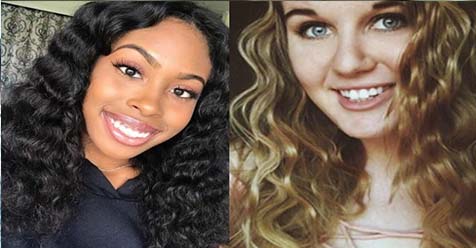 Chennel "Jazzy" Rowe, a black student at the University of Hartford has revealed how she was repeatedly poisoned and humiliated by her white roommate until she packed out.
Rowe, who was a freshman roommate to Brianna Brochu didn't get along with her during the first few weeks of the school year. But unknown to her, she never knew she was getting bullied until after she decided to move out to her new room.
She said as she was leaving, friends quickly notifed her to check Instagram where her now ex-roommate boasted about tormenting her life for 11/12 months.
Brochu posted on Instagram:"Finally did it yo girl got rid of her roommate!! After 1 1/12 month of spitting in her coconut oil, putting moldy clam dip in her lotions, rubbing used tampons on her backpack, putting her toothbrush places where the sun doesn't shine and so much more I can finally say goodbye Jamaican Barbie."
Revealing the shocking details in a Facebook video on Monday, Chennel said:
"While I've been here, I've been getting sick. It started with throat pain. I thought maybe because it's colder up here, I'm just catching a cold."
It never developed into a full-on cold, but the throat pain got worse and worse.
Rowe said that after about a month, the pain "got to the point where I had extreme throat pain that I couldn't sleep, to the point where I couldn't speak."
She went to the campus doctor, who gave her antibiotics but after taking the drugs she helped, doctors couldn't figure out exactly what was wrong with her.
While all of this was happening, Rowe says she hadn't been getting along very well with her roommate.
According to Rowe, they wouldn't argue, but she says her roommate would do things to annoy her and to make her feel unwanted, "like if the person was to walk into the room and see me doing work, she'll turn off the light and just walk out."
Tired of feeling "like a ghost in my own room," Rowe decided to move out.
As she began moving her things to her new room, Rowe says that a few Instagram posts made by her now ex-roommate were brought to her attention.
Ever since the video was released online, Brianna Brochu has been arrested for her despicable act which sparked wide outrage on social media.
In a statement sent to The Tab, Hartford officials confirmed Brochu had been arrested and has been charged with breach of peace and criminal mischief, adding they will "strictly follow our disciplinary process."
"We are currently in communication with the student and her family," they added.
Watch the video of Rowe narrating her ordeal in the hands of her former roommate below..