Video-Nigerian female dancer Korra Obidi beaten by police officers in Victoria island, Lagos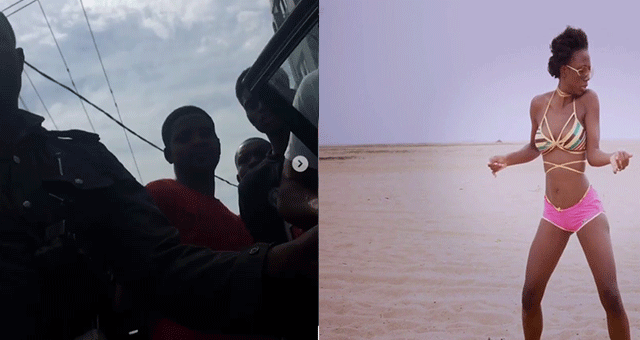 Nigerian professional dancer Korra Obidi has shared a video showing a police officer assaulting her in Victoria Island Lagos.
She said the officer sat on her bonnet and when he saw that she was recording him, he turned aggressive and began assaulting her. The incident happened on Etim Inyang in VI.
She said the officer, whose name was given as Olorunisola Ismail, forcefully gained access into her car in an attempt to grab her phone. He slapped her when she wouldn't let go of the phone and also grabbed her wrist in an attempt to get to the phone. He eventually got hold of the phone and smashed it, then continued shouting at her.
In the video posted online, witnesses can be heard asking Korra to stop making a video of the officer to avoid getting him angry. The officer is also heard telling the dancer, "I'm stubborn than you" as he assaulted her.
She recorded the incident as proof and shared it online, writing: "Phone smashed and physically assaulted by a police officer OLORUNISOLA ISMAIL on Etim Nyang Victoria island
"Who gained access into my car gave me a dirty slap and grabbed my wrist and my phone. Smashes my phone and keeps shouting. This was after I attempted to record him sitting on my Bonnet. ??‍??? I forgot I was in Lagos, not America. But is it not our right? am still dizzy from the slap??? chai."
Swipe to watch the full video below.
https://www.instagram.com/p/Bk0GzknFzGe/?taken-by=korraobidi