Video-Nigerians revolt after they were asked to pay bribe of N1K to collect their PVC in Lekki, Lagos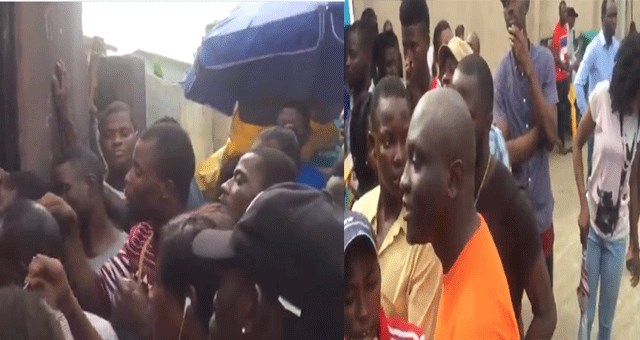 As 2019 election approaches, citizens have been advised to get their permanent voter's card, PVC, and fulfill their civic duties when the time comes. But a number of Nigerians have complained of the hardship they have to endure to get their PVC.
Nkemjika Okorafor shared a video showing Nigerians revolting after they were asked to pay a bribe of N1,000 to get their PVCs in time in Lekki, Lagos.
Nkemjika said she arrived at the registration/collection center, which is at Lagos model school, Marwa, as early as 7am and put down her name. But they were asked to pay N1,000 before they can go into the school to register and collect their PVCs.
She wrote: "Only in Nigeria will you still bribe someone to get your PVC on time. Been here since 7am, put my name on the list and now if you have 1k you will enter before everyone. Lagos model school Marwa. @inecnigeria"
Watch the video below.
Only in Nigeria will you still bribe someone to get your PVC on time. Been here since 7am, put my name on the list and now if you have 1k you will enter before everyone. Lagos model school Marwa. @inecnigeria pic.twitter.com/j65AJIXjKv

— Nkemjika Okorafor (@NO2JAL) June 28, 2018