Watch the shocking moment Arnold Schwarzenegger is dropped kicked in the back while attending an event in South Africa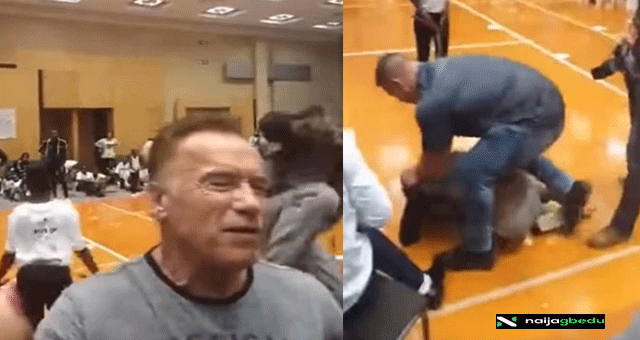 Legendary American actor and former governor of California, Arnold Schwarzenegger was attacked with a flying kick while on a trip to South Africa.
The 71-year-old was attending the sporting event, Arnold Classic Africa, at the Sandton Convention Centre in Johannesburg on Saturday, when the attacker from nowhere kicked him in the back.
In the viral video, Schwarzenegger was taking photographs with fans and judging a skipping competition when a man jumped and kicked him. The attacker was quickly detained by a member of Schwarzenegger's security after the incident.
Schwarzenegger later posted a message to Twitter informing his followers that there was "nothing to worry about".
"Thanks for your concerns, but there is nothing to worry about," he wrote.
"I thought I was just jostled by the crowd, which happens a lot. I only realized I was kicked when I saw the video like all of you. I'm just glad the idiot didn't interrupt my Snapchat."
Watch the video below.