Woman disguised as a lunatic set ablaze in Delta State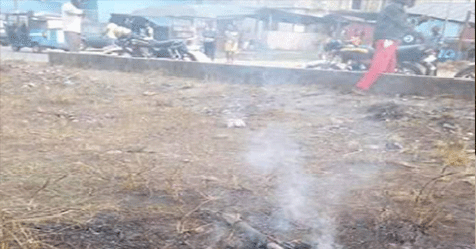 A woman allegedly found in possession of human parts was on Saturday, set ablaze by a mob at Ekete-Inland area in Udu council area of Delta state.
It was learnt that gathered that the woman, known to be moving around the area disguised as a lunatic, was caught with human parts as well as a fresh human corpse at the spot where she always stayed.
According to eyewitnesses, the woman was discovered with the parts when residents were disposing refuse and burning dirt gathered during the day's environmental sanitation exercise.
One of the witnesses, who spoke to The Nation, under conditions of anonymity, said the woman attracted attention of some members of the community, who suspected her strange attitude while burning refuse close to her shack.
"When some of the people who were burning refuse observed she was behaving strangely, they went on to look into her hut and to their surprise they saw a fresh corpse of a young girl and other human parts," the source said.
"This made the people to raise the alarm and suspecting that she might have been in this sort of business for a very long time, people got angry and seized her,"
She was set ablaze before security operatives could arrive to rescue her.