Yahoo boy kidnaps his mentor for denying him his share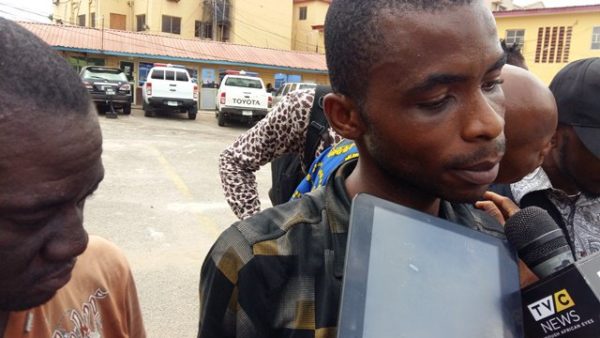 A yahoo boy identified as Eze Douglas Uchenna, has been arrested for kidnapping his boss, Alvin Onuoha, for sidelining him on a $30,000 deal, TheNation reports.
Eze, a native of Imo State, was paraded yesterday alongside his alleged accomplice, Vincent Uchenna by the Lagos State Police Commissioner Imohimi Edgal.
Edgal said the suspects and four others at large, committed the offence around 5:20pm, on April 6, at Ajah. He said the suspects bundled Onuoha into a Toyota Camry saloon car, while he was about entering their compound.
Edgal said: "Two of the suspects were arrested when they went to collect the N200,000 ransom they demanded for the victim's release."
However, Eze said they only wanted to get his money from his boss, who was in the habit of denying him his share of their loots from swindling.
He said: "We were into internet fraud and he said whenever we made money, it would be shared on 60/40%. I agreed and brought businesses to him but each time money came out, he would deny me my 40%. The first one we did together, we made $4,300. Instead of giving me my share, he gave me N300, 000. I still stayed with him and kept bringing my jobs to him. I finished another work and handed over the details to him so he can follow up with payment.
The work paid $30,000 but he kept telling me they haven't pay. So, one of the guys who used to live with us in my boss' room called me from Philippines and told me that my work had paid and that I was a rich man now. I went to my boss and asked him how far with the payment and he said nothing for me. That I was in place to learn work and not to collect money. They started treating me somehow and since I was afraid for my life, I left the house in October last year. I slept inside tricycle for months until I met my friend, Vincent and he introduced me to his friend, Matthew, who helped us in getting his soldier friend and some other boys to pick the man up."